Britney's Choice - Auto Delivery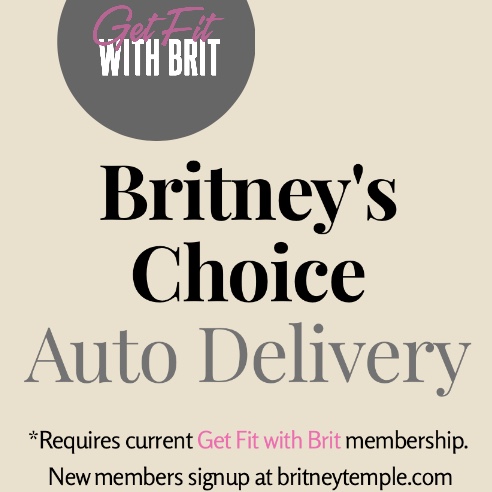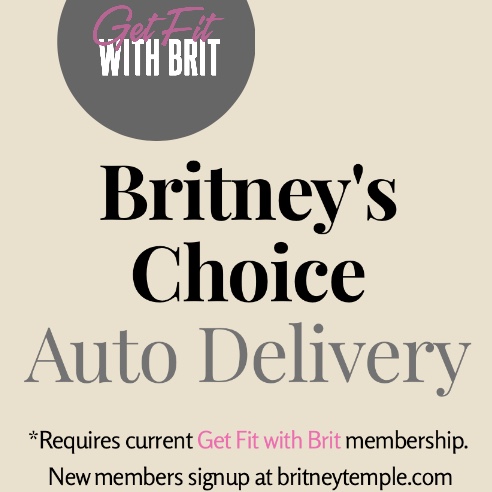 sale
Britney's Choice - Auto Delivery
from
278.00
every 4 weeks
Meal plans suggested by Britney Temple to help you crush your goals. Your first two weeks on this plan are meals and snacks designed to jumpstart your weight loss and burn fat. Choose from 2 meal plans:
Get 2 Meals/day - lunch and dinner (40 RealMeals) + snacks

Get 3 meals/day - breakfast, lunch and dinner (60 RealMeals) + snacks
Healthy meals delivered to your door for 4 weeks. Free weekly delivery.
This meal plan automatically renews every 4 weeks. You save 35%!
Auto Delivery
SAVE TIME AND MONEY WITH AUTO-DELIVERY!
Auto-delivery helps you stay on track with your your health and fitness goals. Get convenient delivery of prepared meals straight to your doorstep, so you never run out. And it saves you money, too!
Enjoy 35% OFF + FREE local delivery on every order

Stay on track with automatic local delivery and billing

You're in control! Pause, update or cancel your order anytime.
We'll deliver your meal plan every 4 weeks, unless you tell us not to. You can manage your auto-delivery or cancel anytime by going to My Account or calling (985) 250-0340. There's a charge of $150 for the auto-delivery discount you received on your first shipment if you cancel after the first month. Cancel anytime after your second meal plan delivery with no charge whatsoever.